Old Hack and Friends
Fossil Fool (CD-R) and (Download)
PNM #002 - Released 9/1/2009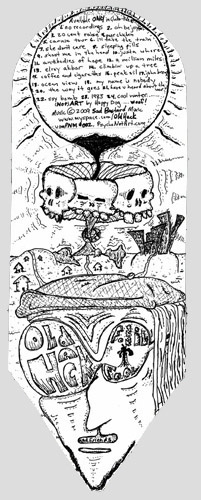 Track List:
1) No Recordings [:42]
2) Oh Be Joyful [1:38]
3) 20 Cent Raise [1:20]
4) Po' Chicken [2:53]
5) Carnie Tour [1:49]
6) I'll Take the Train [1:40]
7) She Don't Care [2:06]
8) Sleeping Pills [1:38]
9) Shoot Me In the Head [2:27]
10) Just a Whore [:49]
11) Antibodies of Hope [2:14]
12) A Million Miles [3:07]
13) Elroy Akbar [8:02]
14) Climbin' Up a Tree [1:44}
15) coffee and Cigarettes [:36]
16) Peak Oil [1:36]
17) John Brown [1:41]
18) Ocean View [4:42]
19) My Name is Nobody [1:50]
20) The Way It Goes [3:09]
21) Have U Heard About the War? [1:57]
22) Soy Bomb [5:36]
23) 1983 [3:59]
24) Cool Water... [12:12]
Over 20 fucking tracks. Almost two hours of music. Two and a half years of recordings with all different kinds of people from all corners of the map. Specialty items include: Dog, a nine year-old pianist, an 11 year-old on cello, their dad on accordian, crack heads on Haight Street, Jerimiah - Son of Abraham on spoons, garbage, puke stains, methadone, cancer, broken hearts and victorious legions.
Listen to the transmogrification of Old Hack from a spritely, young, inspired hell-raiser into the over-zealous, manipulative, mass-murdering cult leader he would become. By the end of the album you won't know whether you like Old Hack or if you ARE Old Hack.
Please find info for purchasing through the
store
page.
Old Hack Has
ISSUES
.