Sun Chasers (DVD-R)
PNF #002 - Released 4/20/2012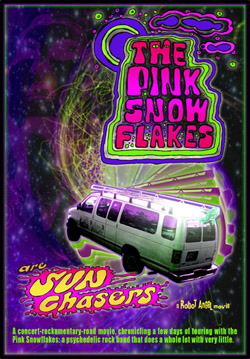 Join The Pink Snowflakes as headaches and hardships blend with euphoria and a penchant for traveling to new places.

"Different sides of your friends appear as often as different sides of life when on the road. It's all part of the order of things, it seems. Communal problems take precedence over personal issues. Money is always a factor, and a shortage will crush more d.i.y. bands than dealing with personality conflicts. Some days the money factor is more noticeable than others, and the hyper-magnification of moods while on tour will bring these realities out like 4th of July fireworks. Other days it's a mere afterthought, assuming there's at least a floor to crash and a bag of pretzels to split at the end of the night. And in between the swinging of this pendulum of emotions, there's music to be played each night."

Stephen Kane tried to show a short glimpse into this reality - filming The Pink Snowflakes as they busk and bash their way through a couple of shows in central Cali in Spring of 2010. He helps offer a glimpse of life on the road, but that's worlds more than just catching the live show. Turns out these weird-ass noise freakout goons from the Pacific Northwest can be people too....who'da thunk?

Feature Running Time - 40 mins.

Bonus footage includes three additional live performance videos, filmed between 2009 - 2011.

Purchase a copy of Sun Chasers HERE.