Joel Magid's Hyenas
(LP/Download)
PNM#008 - Release Date: 6/21/2014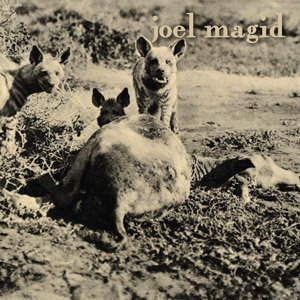 DOWNLOAD CODE REDEMPTION CAN BE FOUND BELOW! (Download cards can be found in with the purchase of a vinyl record.

On Hyenas, Joel Magid pays homage to 1960's rock'n'roll while creating a wholly original, compelling sound. This album gets under your skin.

Hyenas takes the listener through an odyssey of different music styles—from the rock'n'roll sound of "Let Go," to the lonely evocation of the dusty Wild West in "One of the West", to the drunken punk rock singalong of "Hollow". Consistent throughout is Magid's mastery of his lo-fi 1960's sound, his playful inclusion of a range of instruments, and his smart lyrics.

Besides the guitars, bass, and drums, a variety of instruments come into play in Hyenas, including an organ, a piano played in classical (and sophisticated) style, a variety of percussive instruments, and who doesn't need a vibra-slap now and then? Each instrument complements the song, whether the resulting sound is mournful, dissonant, or raucous. Magid's lyrics play just as key a role. There are no sloppy rhymes or thoughtless departures into narcissism here; he uses words carefully and effectively, often with cynical undertones, like in the introductory lines of "Agony Divine," when Magid sings:

"When I woke up early this morning, I was not convinced I was here
I dragged my body in to the bathroom, but couldn't see me in the mirror
I saw a world disappearing, with millions who just do not care
As if you could live your whole life and simply pretend you're not here."

Throughout Hyenas, Magid juxtaposes dark lyrics with driving melodies. Take, for example, the song "Snakes, I Love You," which opens with the ominous lyrics: "So much for anything that's sane/Left with the drama and the blame/Miss you and I'm sure you feel the same/But how long, how long/Did you feel the shame." And yet, when the song reaches its climax, as Magid hisses "You sound just like a snake, it's music to my ears" over an utterly danceable beat. Every listener will find some difficultly not moving along to the hypnotic rhythm.

Magid clearly draws influence from 1960's rock'n'roll, especially The Sonics, The Zombies, and The Kinks. And he shares qualities with contemporaries like The Growlers, Strange Boys, Black Lips, Ty Segall, Harlem, and Jacuzzi Boys. But his voice is unique, and his style undeniably his own.


Be aware you may be asked for your email when downloading this record off this site. You do NOT have to give your email... it is optional.